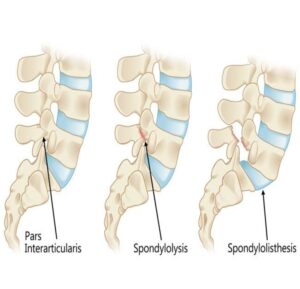 Dr Tushar Pisal-spondylolisthesis treatment in Pune, PCMC
What is Spondylolisthesis?
Spondylolisthesis is a common condition that occurs when one vertebra in the spine slides forward over the vertebra that sits beneath it. The primary reason behind spondylolisthesis is spondylosis, which mainly causes loss of functions of joints holding two vertebrae together. Although lumbar spondylolisthesis is most common, slippage can also occur in the cervical or thoracic spine. Spondylolisthesis primarily affects the lumbar spine; however, the cervical spine also affected. You need to visit Dr. Tushar Pisal spine clinic for Spondylolisthesis treatment in Pune, PCMC.
Spondylolisthesis condition divides into one of five grades based upon the severity of the movement. Grade 1 involves 25% forward slippage. Similarly, Grade 2 involves 50% forward slippage; Grade 3 involves 75% slippage; Grade 4 involves 100% slippage; and, Grade 5 indicates that the vertebra has fallen off completely to the vertebra beneath it. Dr. Tushar Pisal is the Best doctor for Spondylolisthesis treatment in Pune, PCMC
Spondylolisthesis Symptoms
The primary symptom of spondylolisthesis is pain at the local site due to associated spondylosis. The majority of these cases have associated spinal stenosis also., people with spondylolisthesis don't notice anything is wrong.
Patients who have symptoms presents with,
FAQ- Spondylolisthesis Treatment & Causes
If you find any of the above symptoms visit Dr. Tushar Pisal Spine clinic- The best Spine surgeon in Pune for spondylolisthesis treatment. While overlooking the above the symptoms may cause major damage to your spine.
As a quick summary, spondylolisthesis can be caused by: • a birth defects • Spine fractures • spondylolysis (a defect or fracture in the pars interarticularis) • degeneration due to age • Spinal tumors • Post-surgical spondylolisthesis • Pathological spondylolisthesis
Spondylolisthesis is diagnosed by following tests: • X-ray- Mainly Grading of spondylolisthesis is done on dynamic x-rays. It also shows signs of spondylosis • CT Scan- : A CT scan is sometimes required to confirm or rule out pars interarticularis fracture. CT scan may also give additional information about bony anatomy in detail • MRI Scan- It mainly shows listhesis of vertebra along with usual degenerative changes of spondylosis. Severity of spinal stenosis will also be assessed by MRI scan Other tests include EMG-NCV, blood tests, etc, might be required to confirm or rule out any associated pathology conditions. Dr. Tushar Pisal- (Spine surgeon in Pune) will examine the patient by all possible ways to diagnose the condition and grades first to provide the best Spondylolisthesis treatment
Pain Management- Depending upon the degree, pain can be a minor or major symptom of spondylolisthesis. For some grades, oral medications like acetaminophen and ibuprofen may be sufficient. For others, prescription-strength painkillers may be necessary to give relief from pain. Our spine clinic has a dedicated and pain management specialist with us to provide multimodel approach for satisfactory results. A team of experienced and expertise in back pain, neck pain specialist in Pune who treated the patients with advanced techniques. This can include- Epidural Injection, facet injection, Radio-Frequency nerve ablation. Spinal Fusion Surgery- In the case of advanced grades, spondylolisthesis can lead to high levels of spinal instability. Spinal fusions surgery involve the mechanical fastening of vertebrae into place. For some, this type of surgery may be required in order to restore spinal stability or eliminate painful symptoms and provide best results to patients. Spinal Decompression Surgery- Spondylolisthesis may also lead to spinal compression and damage to intervertebral discs or nerves. Along with a spinal fusion, Dr. Tushar Pisal- Spine surgeon may perform a spinal decompression such as a laminectomy or foraminotomy to create additional room for the spinal cord and nerves. Meet Dr. Tushar Pisal for Cervical Spondylosis, Lumbar Spondylosis, Spondylolisthesis treatment in Pune. Dr. Tushar Pisal is one of the best spine surgeon for spondylolisthesis treatment in Pune, PCMC to treat any spine-related problems. Our center spine treatment centers are available at Shivajinagar l Baner l Charholi l Chinchwad